Customer Reviews
05/17/2021
JAMES P.

United Kingdom
Amazing value strap - lovely military vibe
Having recently purchased a Black Bay 58 blue I was keen to get a military vibe olive coloured NATO style strap to showcase the watches MN routes. A friend recommended Lunar Straps and I'm truly delighted that he did because not only are they VERY good value for money but the quality is outstanding too! What I love about this Pertexo strap is it provides that NATO feel without the excess tail to fold away; that and it's fully adjustable and comfy too! I'll be back for more Lunar Straps soon I'm sure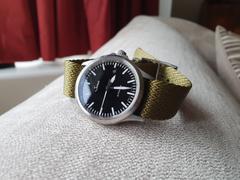 11/28/2020
Chris C.

United Kingdom
Brilliant
Great and very quick service. Very high quality products. I've bought several straps now all excellent 5 stars all the way
11/28/2020
john w.

United Kingdom
Overall excellent
I was thoroughly happy with my purchase. Good quality especially for the price (discounted)